This post contains affiliate links.
Kayaking and camping go hand in hand when it comes to adventure. But carrying your kayak on your RV can be harder to figure out than you'd think.
Good thing there are camper kayak racks that are specifically designed to do just that — keep your kayaks secure and protected while offering convenient loading and unloading options.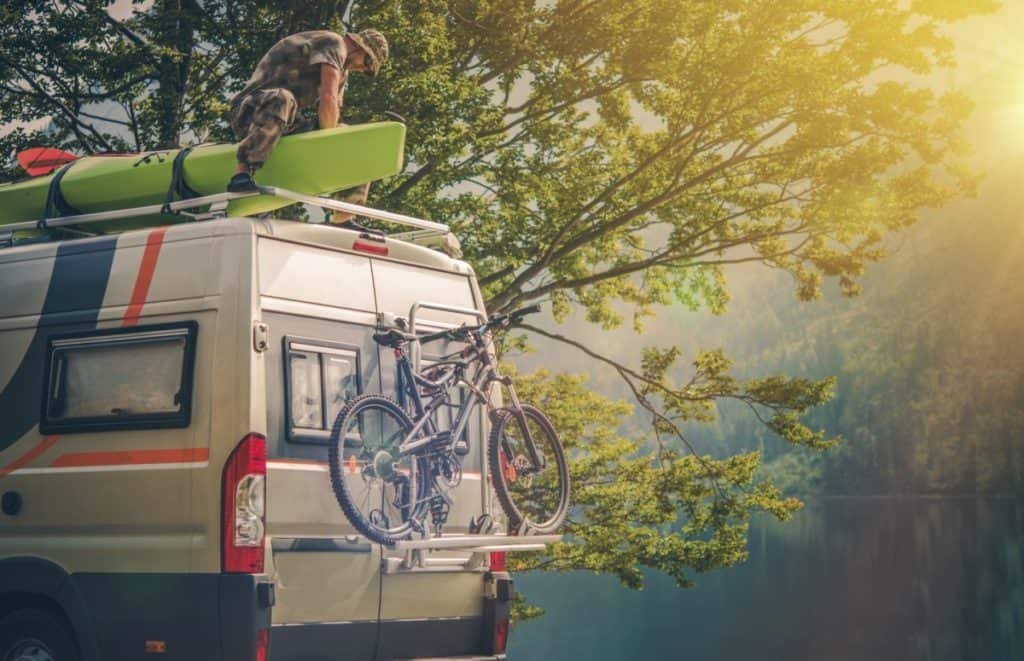 Here, I'm going to cover what makes the best RV kayak racks and share some options and clever accessories.
If you want the quick answer to which is the best kayak rack for your RV it'll depend on how you want to mount it. But my favorite hitch mounted kayak rack is the Yakups RV Kayak Rack. It is very versatile but also very expensive.
Best Roof Kayak Racks for Campers
Using a roof rack on your RV is an inexpensive way to carry your kayaks but this method has some major caveats. It's going to depend on the type of camper you have and how often you want to access your boats.
A roof kayak rack is best suited to camper vans and Class B motorhomes since they are lower in height than larger RVs and trailers. If you don't plan on using your kayaks a lot or are going to be staying in one place for a while and don't mind storing your kayak on the ground then using a roof rack on top of your Class A or Class B motorhome is a very good options
Best Camper Roof Rack – Thule Compass Kayak Carrier
Thule Compass Kayak and SUP Carrier
Versatile water sport carrier that can transport kayaks or stand up paddleboards
Multiple carry options: Single kayak in J-style or saddle mode, two kayaks in stacker mode, and up to two SUPs in saddle mode
Thick rubber saddles and padded upright for maximum protection
The Thule Compass Kayak Carrier (link to Amazon) is one of the best kayak rooftop racks you can get. Thule is a well known brand with a great warranty and reputation from making great products.
The Compass Kayak Carrier rack allows you to carry one kayak in either J-style or traditional saddle mode or two kayaks in stacker mode. It provides maximum protection to your kayaks thanks to its padded saddles.
It also has a strap catch feature which helps you to easily load and unload your kayaks while exerting minimal effort. There are also two sets of loading straps along with buckle bumpers to give a better snug fit to your kayaks.
This can also fit different rack systems because its mounting hardware has a universal design. But some reviewers have said they have issues mounting this roof rack on their vehicle due to the car's aerodynamic crossbars. This means the roof rack crossbars are thicker at the front and thinner at the back so there are issues getting the crossbar clamps to tighten properly.
That being said, normally you don't need to use any tools when installing the kayak racks. It can accommodate kayaks that have a maximum width of 36 inches and a maximum weight of around 130 lbs.
The Thule Compass Kayak Carrier measures 32 in. x 19 in. x 7 in. and weighs 20 lbs for each saddle. It comes with two saddles, one for the front and one for the back.
Pros
Easy loading and unloading of kayak thanks to its Strap Catch feature.
Made of durable stainless steel material.
Has fold down feature so the rack is aerodynamic when not in use.
Cons
A bit flimsy if not properly loaded.
Can be difficult to install on some roof racks.
A bit pricey due to Thule name
Runner Up Camper Roof Rack – Thule 830 Stacker Kayak Rack
Thule 830 The Stacker (4) Kayak Carrier
Fold-down steel design with non-scratch outer coating
Quick on/off hardware ensures fast installation and removal amd
Carries up to 4 recreational kayaks but includes all straps to transport 1 kayak
The Thule 830 Stacker Kayak Rack (link to Amazon) is "the keep it simple" kayak carrier to put on your list if you have a rooftop rack and crossbars. The Stacker acts as a support to lean your kayak against then you tie your kayaks down to the crossbars of your roof rack.
This kayak rack features a fold-down mechanism that has a scratch-resistant outer coating so you can collapse the stacker when not in use. This goes perfectly well with its quick loading/unloading design.
Unfortunately, it is only compatible with Thule brand roof rack and crossbar systems. But users have been known to make it work with their existing crossbars with the help of a little creativity.
It can carry up to four kayaks that have a maximum width of 36 in. and a maximum weight of 75 lbs each. The Thule 830 is the lightest kayak roof rack option in this review roundup as it only weighs a total of 7 lbs and measures only 20 in. x 5 in. x 5 in. It does include two units in the package, one for the front and one for the back.
Pros
Easy loading and unloading of kayaks.
Very sturdy build. Kayaks are securely strapped.
Can carry multiple kayaks.
Leaves room for other roof mounted items if only carrying one or two kayaks.
Cons
Needs additional accessories such as a crossbar.
Kayaks have less protection since they are resting directly on the crossbars.
Need to purchase extra tie down straps, only includes enough for one or two kayaks.
Need two people to load kayaks.
Best Hitch Mount RV Kayak Racks
For larger RV's a hitch mount kayak rack is the way to go but unfortunately there just aren't many on the market and the ones that are, while awesome, can get pretty pricey. You also need to be mindful of how long your kayaks are since they will be standing on end behind your RV.
The average height restriction in the USA and Canada is 13'6″ for major highways and interstates. Recreational kayaks are anywhere from 8-13 feet long plus you need to account for ground clearance. If you have a seakayak then a roof rack or trailer are your only options.
Best Hitch Mount Kayak Rack – Yakups RV Kayak Rack
The Yakups RV Kayak Rack is the ultimate hitch mount kayak carrier and ideal for your motorhome or trailer. Your kayaks are carried vertically behind your RV and you can even add an optional bike rack for an extra price. But they are very pricey.
Without the bike rack attachment, you can carry up to 4 kayaks up to 32in in width. With the bike rack you can carry 2 bikes and 2 kayaks. You can also use the rack with standup paddleboards instead of kayaks.
All Yakups kayak racks are made in the USA and the company is available to answer any questions you have about their racks. They are actually custom made to fit your RV and watercrafts.
If your bicycles and kayaks are fairly lightweight you can use this kayak rack with a heavy duty swing arm so you can still access the back hatches on your RV. Just be sure the swing arm's maximum load is less than the combined weight of the rack and all the gear.
The rack weighs around 108 lbs with the optional bike rack, which is a bit heavy. But its use and functionality make up for that. It'll stick out a little less than 3 feet from the back of your RV and is 56″ wide.
Pros
Gives your kayaks a tight and snug fit.
Can carry kayaks and bikes
Compatible with most hitch receiver swing-arms.
Built in the USA.
Easy access to kayaks.
Cons
Expensive.
Heavy.
Have to pay for shipping
Best Budget Hitch Mount Kayak Rack – VertiYak Kayak Rack
The VertiYak Kayak Rack is a great alternative to the Yakup and it's 1/3 of the price. It's also a kayak carrier that carries kayaks vertically using a hitch mount. This kayak rack can carry two full-sized kayaks with a maximum length of 12 feet.
It has a solid metal frame and will hold your kayaks firmly in place. You will need to purchase ratchet straps separately as VertiYak recommends using two to properly secure your boats. Adding a pool noodle or rubber padding to the base of the frame is a simple way to protect your kayaks from rubbing.
There are a few things to keep in mind due to the design of the VertiYak kayak rack. You need to make sure you have enough clearance between the ground and your kayaks. There is no protective cradle for the bottom of your kayak so you need to be careful to avoid scraping the ground and damaging your kayak.
You should also measure how high your kayaks are when mounted on the rack to make sure they are less than the maximum height of 13'6″ and so you know exactly whether you and your kayaks will survive that low bridge ahead.
VertiYak also boasts free shipping to anywhere within the continental U.S.A, excluding Alaska and Hawaii. A huge savings compared to the $250 Yakups charges.
Before you order, make sure that your kayak's end fits inside the 11.5 in. x 17 in. lower hoop.
Pros
Has a firm and snug fit
Lightweight
Relatively inexpensive
Folds up out of the way when not in use
Cons
Limited number of kayaks can be loaded
Limited on length of kayaks
Rubber padding and straps not included
No protection from ground clearance
Best Kayak Trailer
If you have a long kayak like a sea kayak or a touring kayak then a hitch mounted kayak rack will not work for you. Your best bet, aside from putting it on the roof, is a kayak trailer.
A kayak trailer has some advantages like being able to haul long kayaks, store additional gear and carry multiple kayaks. The downside is they will add length to your rig and can be expensive.
If you haven't considered towing with your RV before read my article for everything you need to know, Towing With Your RV: The Ins and Outs.
Best Kayak Trailer – Right-On Trailer Multi-Sport Multi-Rack Kayak Trailer
If you want a trailer than can take it all then this multilevel trailer is for you. The Right-On Trailer Multi-Sport Multi-Rack Kayak Trailer (link to Amazon) has two levels giving you many options for how to carry your gear.
This trailer can fit up to 6 kayaks if you position them properly. It can also take a combination of kayaks, canoes, standup paddleboards, bicycles and storage bins.
The downside is unless you want to attach your kayaks directly to the crossbars you'll need to pick up a set of J-bars. Fortunately, you can good quality ones for not a lot of money, like this set (link to Amazon) which gives you enough for 2 kayaks for about $50 on Amazon.
This kayak trailer is about 200lbs and 65″ wide. So not an extremely light trailer but not bad for a multi-tiered trailer either. The trailer is made of powder coated metal so any nicks or scratches should be touched up right away to prevent rusting.
It ships from Amazon so assembly is required. It should take the average person about 5 hours to put together so start assembling it with plenty of daylight and not right before you want to use it.
Pros
Relatively lightweight for a multi-level trailer
Can haul long kayaks
Can carry a mixture of kayaks and other gear
Not too expensive for a kayak trailer
Fast shipping
Responsive, helpful supplier
Cons
Need to assemble
Adds length to you RV setup
Need to purchase add-ons for proper kayak and bike carrying
DIY RV Kayak Rack
If you are very handy and creative then you can make your own RV kayak rack. Unfortunately, I have not done one myself and can't find a tutorial on how to go about doing one.
But for the few images, I have found the concept is to adapt a hitch mount cargo carrier (link to Amazon). You can add some sort of container to hold the base of your kayak like the photo on the left. Or you can cut some of the grating, add some plywood and pool noodles for protection like the photo on the right.
Both setups look to have added a vertical piece to secure the top of the kayaks.
Things to Consider When Buying an RV Kayak Carrier
Weight
The first thing you need to consider when choosing an RV kayak carrier is its weight. All motorhomes, camper vans and trailers have a set carrying capacity that you don't want to exceed.
Add the combined weight of the carrier, kayaks, paddles and the other accessories to get a total weight. Kayak racks vary in weight and can range greatly depending on the style. Roof mount kayak racks start out around 10lbs while kayak trailers can be over 200lbs.
It's likely you'll be removing and reinstalling your kayak carrier on occasion which is another good reason to select a lightweight kayak rack. Having a rack that is too heavy to comfortably handle can lead to damage to you and your gear.
Size
Consider the size of your kayak carrier. Make sure the carrier won't block the storage hatches, doors and steps on your RV. If you have your kayak on the roof of your camper you'll want to make sure no vents or solar panels are blocked.
You also want to check the length, width and height of your camper's kayak rack with your kayaks loaded. This way you can confirm in how tall, wide and long your RV set up is when fully loaded.
Rack Capacity
Each kayak rack will have a different carrying capacity. How many kayaks do you plan to transport? Do you want to hold the paddles, jackets and other equipment as well?
You don't want to overload your kayak rack by placing more weight than what it's rated to carry. But having an oversized rack could waste precious bumper space as well if you're kayaking solo.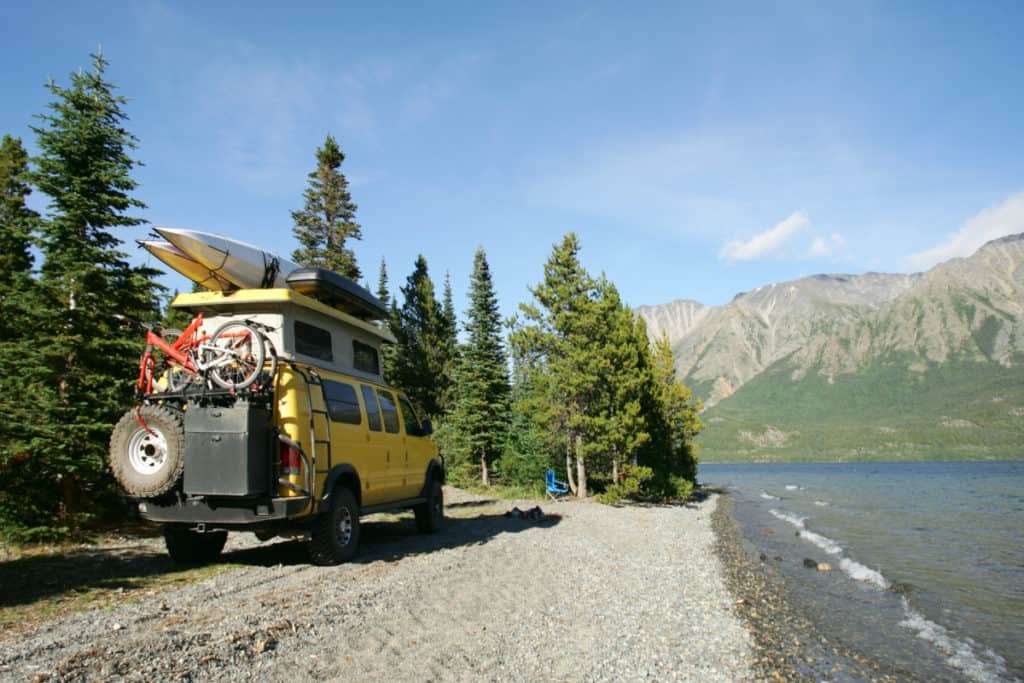 Materials
The material of the kayak rack for a camper or fifth wheel is important because it will ultimately define the durability and lifespan of the rack. Choose a rack made with a steel frame as these are the strongest.
Also, opt for a rack that is coated with a corrosion-resistant layer of protection, either powder coated or anodized, so that it won't rust and corrode from being exposed to the elements.
Rack Accessories
RV kayak racks are already designed to carry your kayaks in the safest and most secure way possible. However, you can always customize it and make it more tuned to your preferences.
Some of the most common additions and accessories are accessory lights, bike racks, surfboard, and paddleboard trays, in case you want to bring other watersports along. You can also get spare cable locks and padlocks to make it more secure and safe from thieves.
Security
Properly securing your kayaks for transportation is one of the biggest ways to prevent damage to your kayaks and camper. Roads can get rough out there and losing your boat on the way to an adventure isn't worth the risk. Selecting a rack with high quality straps or bracket system is important.
Picking a rack that has a place to secure a cable lock is a must. If you don't have your kayaks properly locked up you run the very real risk of having them walk off on you. We had a bike stolen from the back of our RV while we were sleeping when we forgot to lock it up.
Granted a bicycle is a little easier to make a quick getaway than a kayak but you can't be too careful.
Price
The price is another important consideration and varies widely between the sizes and manufacturers. Camper kayak carriers range in price between $50 and $2000, with good solutions found at both ends of the price range.
An expensive kayak rack doesn't necessarily mean that it's of premium quality. The same goes for the cheap ones as it doesn't automatically mean that they're flimsy. Finding a good option that fits your needs and budget is the most important thing.
More well known brands will demand a premium price and so will the more tricked out racks. Read what people have to say about them by checking the reviews of those that have bought and used the rack.
Kayak Rack Accessories
There are some very useful accessories out there to help you with loading and unloading as well as modifying your set up to let you use some of the hitch mounted kayak racks.
Kayak Loading – Seattle Suction Load Assist
The Seattle Suction Load Assist (link to Amazon) is a simple accessory that helps you load your kayaks on and off the roof of your RV. It suction cups to the roof or back of your RV to help load and unload your kayak. The surface must be flat and clean to allow for proper suction.
It features alloy bars alongside its strong suction cups that are sure to safely and strongly stick on your RV. It's a heavy-duty product that'll help you get your kayak on and off your roof without worrying about damage to your kayak or RV.
Trailer Bumper Hitch Reciever
If your travel trailer does not have a hitch then adding on an RV Bumper Hitch Reciever (link to Amazon) is a simple workaround to let you use some of the awesome hitch mount kayaks racks I mentioned.
This bumper hitch receiver is heavy duty and can handle up to 200lbs. It'll fit any 4-4.5″ square bumper. Just make sure your travel trailer or 5th wheels bumper can actually withstand that kind of weight.
Keeps in mind these adapters are NOT to be used for towing.
Sale
Hitch Swing
Getting a hitch swing for your hitch mounted kayak rack will make accessing the back of your RV so much easier. The Yakima Backswing is a great option since it can hold up to 250lbs.
It swings out 90 degrees and securely locks in place with a safety latch for when you are driving down the road. Being able to access your rear storage hatch or back door to your camper with this swing out arm makes life a lot easier compared to fully dismounting all your rear and rack.
Yakima - BackSwing Bike Rack Hitch Extension
Hitch extension converts most 2" hitch products to a swing-away rack; Provides easy tailgate access - even with a rack fully loaded with...
Easily swings open 90 degrees and locks in place with the simple to use release lever
Safety latch secures the rack closed while you're on the road; Secures to any 2" hitch receiver using a threaded pin