This post contains affiliate links.
With all of the different air purifiers on the market, it can be hard to figure out which one is the best choice for your RV. There are certain qualities and features to look for like noise level and power usage, and the best one is ultimately the one that meets your needs.
Maybe you have pets that travel with you, maybe you like to smoke in your RV, or maybe allergy season hits especially rough for you. No matter why you're looking for an air purifier, I've found the best options for you to consider.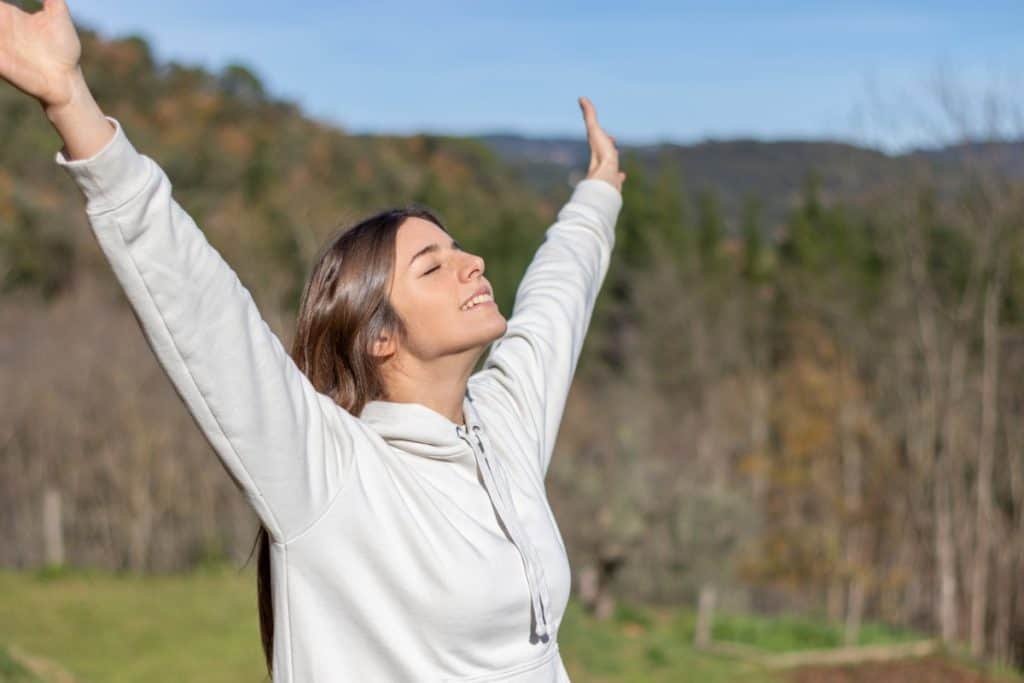 Best Air Purifiers for Your RV
When you're comparing air purifiers there's a few key things to look for. Since space is a valuable commodity in your RV you'll want a purifier that is compact in size, and you also won't want one that draws too much power.
The amount of noise a filter makes as well as the cost are certainly things to consider as well, but at the end of the day, an air purifier is only as good as its ability to filter the air in your RV.
These are the best air purifiers I found that meet the needs of a full time RVer or just the weekend camper.
Best Air Purifier for Full Timers
I'm a full time RVer with a cat, so I know how hard quality air can be to come by. Even if you don't have hair and litter dust to contend with, living in your RV full time can take a toll on your built-in air filter.
The Levoit Air Purifier is perfect when you live in your RV full time. This purifier can filter out particles as small as 0.3 microns from the air. Comparatively, your RV's AC filter only catches particles larger than 5 microns.
This model has the ability to work on spaces up to 215 square feet, and it can filter an impressive 230 cubic meters of air per hour. That translates to five complete turnovers of the air in your RV per hour at the Leviot's maximum output.
One nice feature is that you can buy different kinds of filters for this purifier including one made specifically for pet dander and one made specifically for mold and bacteria. It also has a built-in activated carbon filter that reduces odors – definitely something that pet owners may find helpful. And even if you don't cooking smells can easily get trapped in an RV.
This purifier is 9 inches wide by 14 inches tall, which makes it compact enough to fit on the end of your dinette or your bed's end table. Another thing that makes this particular purifier good for the bedroom is its noise rating. The decibels range from 24-50, with 24 being the level while it is on sleep mode.
Most whisper quiet AC units in RVs are around 25 decibels at their quietest, so the Levoit wouldn't be any louder than what you're already used to listening to. The wattage for this purifier is 45W, which is also about what your average pedestal fan draws.
One disadvantage of this purifier is maintenance. You should clean out the pre-filter that catches large things like pet fur every 2-4 weeks, and you should clean the particulate filter monthly. The main filter will have to be replaced every 6-8 months which is also an additional cost, and the relatively high starting cost of the purifier is also something to consider.
LEVOIT Air Purifier for Home Allergies Pets Hair in Bedroom, H13 True HEPA Filter, 24db Filtration...
Ozone Free: Levoit air purifiers avoid using UV-C light, an air cleaning method that research has shown can produce harmful ozone and...
High Performance: Enjoy fresh air in 12 minutes with the Core 300 True HEPA Air Purifier. Featuring VortexAir Technology and 360° air...
Find Relief: Ease sneezing, congestion, and other allergy symptoms caused by airborne contaminants. The H13 True HEPA Filter works alongside...
Best Low Power Air Purifier
If you're doing a lot of camping off of shore power, you're going to want a purifier that won't put extra strain on your RV's battery. You won't find a much lower wattage than the Koios air purifier which runs on less than 8 watts of power, and that's not the only thing this purifier has to offer.
The Koios model can filter out particles as small as 0.3 microns just like the Leviot purifier, and likewise it has an activated carbon filter for odors. This purifier also removes PM 2.5 air pollution, so that may be of interest if you live around large cities or other areas of high pollution.
This model also operates around 25 decibels making it ideal for use while sleeping, and it is one of the smallest models at 7 x 7.5 inches. This purifier won't hurt your wallet either, it is one of the less expensive models you can find that still provides high-quality filtration.
You will have to clean and replace the filters on this purifier as well, but the biggest drawback is the output. While the air that is filtered will be very well purified, the Koios only circulates 55 cubic meters of air per hour compared to the 230 cubic meters of the Leviot. So it'll take a little more time to do a full turn over of your RV's air.
Sale
KOIOS Air Purifier for Home, True HEPA Air Filter for Bedroom Small Room and Office Removes...
TRUE HEPA AIR PURIFIER - Filters out 99.97% of dust, pollen, mold spores, and pet dander. This air purifier filters particles as small as...
ENVIRONMENT-FRIENDLY AIR CLEANER - Equipped with 3-Stage Filtration system including Pre-filter, TRUE HEPA Filter, Activated Carbon Filter...
360° DEEP PURIFICATION - Efficient air intake and discharge maximize fresh and healthy air provided to all directions, improving the air...
Best Small Scale Air Purifier
Maybe you don't need to go all out on an air purifier that can filter your entire RV. Maybe your bathroom tends to get mildewy, or you keep your cat's litter boxes in your bunk room, or maybe you just want some extra peace of mind for your bedroom. No matter which room you're looking to purify, the GreenTech Environmental pureAir 50 has your back.
While this filter is marketed for small areas, it can actually filter up to 325 square feet. This is going to be plenty for most small and mid-sized RVs, so taking care of a single room will be no sweat for this model.
One big advantage of the GreenTech 50 purifier is that there is not a filter cartridge you have to replace periodically – instead, you just wipe down the intake tube now and then.
The size and power usage are two other things to consider. This purifier is only 4.25 x 3 .5 in, making it the smallest model in the guide. It also uses less power than the Koios at only 3 watts and it is priced very affordably.
So what's the catch? Remember when I said that a purifier is only as good as its filtering capability? The manufacturer does not publish the specifications of this purifier as far as what size particles it can filter or how many cubic meters of air per hour.
GreenTech does stat the pureAir 50 can remove bacteria, viruses as well as smoke and odors but without the specific particle size it's hard to say how well it actually works. While that doesn't automatically mean the purifier is not comparable, you also can't say for sure.
Greentech Environmental pureAir 50 - Portable Air Purifier and Air Cleaner, Air Purifiers for Home,...
Significantly reduces odors and invisible irritants: pureAir 50 room air purifier transforms your space into a continuously fresh and clean...
Uses advanced technology: We use advanced technologies such as activated oxygen or ozone, HEPA carbon filtration, and ionization. The...
Simple operation: our small air purifier makes an elegant addition to any space. Its dial control allows for simple purification level...
Best Portable Air Purifier
If you split time between your house and your RV, you may like the idea of an air purifier that can travel easily with you. The Wynd Plus purifier takes lithium ion batteries so that you don't have to worry about plugging in while it's running, and the power draw for the adapter to recharge the battery is only 6 watts.
The Wynd Plus has the unique capability to sync up with your phone to let you track the quality of the air around you. It can also filter particles as small as 0.3 microns like most of the other purifiers, and it's not too bulky at 4.3 x 9 in.
There are two main drawbacks to this purifier: the noise and the price. The lowest decibel rating is 30, which is louder than the other models. This is also the most expensive air purifier but it is definitely worth considering if the cost is worth the portable convenience.
Wynd Plus Smart Personal Air Purifier with Air Quality Sensor - App Integrated, Night Mode Air...
WYND PLUS AIR PURIFIER - The Wynd Plus was engineered to generate a positive pressure bubble to keep bad air out, even during wildfire...
PERSONAL AIR QUALITY SENSOR - The Wynd personal air purifier comes with a built-in, detachable air quality sensor that continuously monitors...
POWERFUL DESIGN - Speed and power in the palm of your hand. Designed by engineers from NASA and MIT, Wynd air purifiers can purify up to 8...
Tips to Get Cleaner Air in Your RV
Aside from buying an air purifier there are several things you can do to improve the air quality in your RV. You can also use these along with your new air purifier to keep it nice and fresh inside your tiny home.
Add House Plants
You don't have to go all in on a fancy air purifier in order to get some cleaner air in your RV. Plants act as natural air filters, and the larger and the leafier the better they will work.
My two favorite plants are pothos (Devils Ivy) and the Spider Plant. Both of these are super easy to care for which is a huge plus if you are into low maintenance plants like I am.
Pothos can basically grow anywhere and can even be grown in water directly, taking the soil/border issue out of the equation. Spider Plants are awesome if you have pets because they are entirely non-toxic to animals.
Just keep in mind if you plan to cross the border there are restrictions on bringing plants and soil across international borders, learn more in my article Crossing the Canada/US Border in an RV.
Use an Ionizer
An ionizer is another options you can use on it's own or in conjunction with your new air purifier.
Ionizers remove contaminants from the air by weighing them down with negative ions. Instead of being caught in the filter, the weighted contaminants drop down and rest on your RV's surfaces until you clean/vacuum.
You might have a few more particles on the floor to sweep up but they help keep dust and particles out of the air and prevent your air filters from getting as dirty.
Clarifion - Negative Ion Generator with Highest Output (1 Pack) Filterless Mobile Ionizer & Travel...
For use in: Bedrooms, Corridors, Bathrooms, Living Rooms, Staircases, and Other Spaces/Rooms.
Removes Bacteria & Viruses | Reduces Allergens | Relieves Congestion | Chemical Free | Helps reduce Asthma | Cleaner Air
Eliminates Dust, Smog, Smoke, Allergens, Pet Dander, & Bacteria to help keep air Fresh & Clean | Smart design with LED indication
Upgrade Standard Filters
Another option is to get an upgraded filter for your RV's AC and furnace system, and you can also put your roof vents and exhaust fans to work to keep air constantly circulating through your RV.
You'll want to measure the current filters on your air conditioner and furnace to make sure you get the right size. Some styles of filter can even be cut to size to fit your RVs strange filter sizes.
RV Air AC 105G 2 Filters | Replacement RV AC Filter for Dometic 3313107.103/3105012.003 | Replace...
BREATH BETTER IN YOUR RV | Basic RV air filters don't remove pollutants like dust, pollen, or pet dander. And the more you travel, the...
THE PERFECT FIT FOR YOUR DOMETIC AC UNIT | Compared to other 3313107.103 / 3105012.003 replacement filters, our RV air filters are made with...
TRAPS THE SMALLEST OF PARTICLES | Our patented filters capture pollen, dust, mold spores, pet dander and other allergens, providing you...
Prevent Moisture Build Up
Preventing moisture build-up can a simple way to reduce the likely hood of poor air quality in your RV. Moisture leads to mold and mildew growth, and their spores can do damage to both your RV and your respiratory system.
Make sure if you are cooking or showering in your RV you have a roof vent open and a fan on to suck that extra moist air out of your RV. This will also help reduce cooking smell build up on soft surfaces.
One of the worst times I found for moisture build up inside our camper is when it was cool and wet outside we would get terrible condensation build up on our windows. A little air flow can go a long way.
Another option, especially if you visit humid places for long term (I'm looking at your Gerogia/Flordia) is to get a small dehumidifier. You can get them pretty inexpensive but keep in mind power consumption if you plan to boondock a lot.
SEAVON Electric Dehumidifier for Home, 2200 Cubic Feet (225 sq ft) Portable and Compact 16 oz...
Efficient dehumidification: This SEAVON small dehumidifier has a 16 oz (500ml) capacity water tank, and the dehumidification range can cover...
Ultra-quiet Working: This small dehumidifier has built-in thermo-electric cooling technology (Peltier). It is quiet enough during operation,...
Auto shut-off: Our dehumidifier will automatically stop working when the water is full, which will prevent the water overflow. Moreover, the...
Don't Use Ozone Generators
As you research ways to improve the air quality in your RV you will likely come across ozone generators. While these are capable of purifying the air, you don't want to get one.
Ozone can damage your lung tissue and make chronic respiratory issues worse, and you can read the EPA's official stance here. In brief, they don't remove particles from the air, ozone actually reacts with particles in the air to possibly become more toxic and these reactions can take a long time to actually occur.
Closing Thoughts
The best air purifier for RVs is going to depend on what you need it for. You can get a purifier that is optimal for travel, low power usage, small areas, or full time RV living, but looking at the factors like quality of filtration and size will help you determine which filter is really best.
To recap these are my top picks for RV air purifiers.
Best Air Purifier for Full Timers
Best Low Power Air Purifier
Best Small Scale Air Purifier
Best Portable Air Purifier
LEVOIT Air Purifier for Home Allergies Pets Hair in Bedroom, H13 True HEPA Filter, 24db Filtration...
KOIOS Air Purifier for Home, True HEPA Air Filter for Bedroom Small Room and Office Removes...
Greentech Environmental pureAir 50 - Portable Air Purifier and Air Cleaner, Air Purifiers for Home,...
Wynd Plus Smart Personal Air Purifier with Air Quality Sensor - App Integrated, Night Mode Air...
Best Air Purifier for Full Timers
LEVOIT Air Purifier for Home Allergies Pets Hair in Bedroom, H13 True HEPA Filter, 24db Filtration...
Best Low Power Air Purifier
KOIOS Air Purifier for Home, True HEPA Air Filter for Bedroom Small Room and Office Removes...
Best Small Scale Air Purifier
Greentech Environmental pureAir 50 - Portable Air Purifier and Air Cleaner, Air Purifiers for Home,...
Best Portable Air Purifier
Wynd Plus Smart Personal Air Purifier with Air Quality Sensor - App Integrated, Night Mode Air...