This post contains affiliate links.
Portable inverter generators have become an essential for many RV owners and campers. They let you keep the lights on at night and charge your house batteries and run your RV fridge. The RV lifestyle is all about being self reliant and efficient, an inverter generator is the key to getting there.
Bring an RV generator when you want to be truly independent and operate your RV lights and appliances without being connected to a campsite power pedestal or shore power. An inverter generator will supply your motorhome or trailer with the 120vac needed by your computers, appliances, AC and more.
As an RV owner, I know the importance of having portable power I can rely on to ensure my food doesn't spoil in my RV fridge and my A/C doesn't shut off when I'm not near another power source.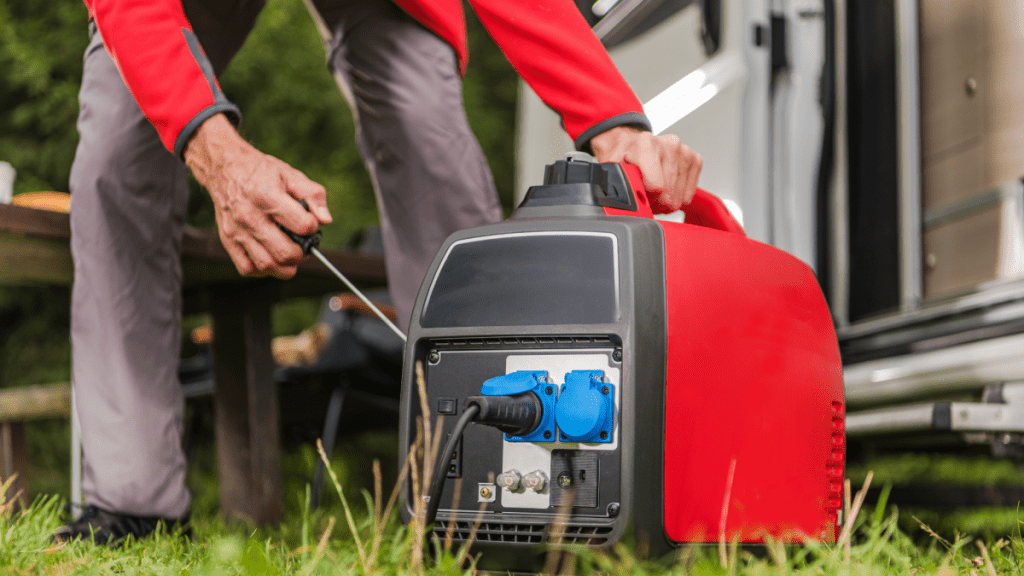 What is an Inverter Generator?
Before you learn what an inverter generator is and how it works, you need to gain an understanding of current first.
There are two different types of electrical current:
Direct current
And alternating current (AC)
Used to power our smartphones, laptops, lablets, and other small appliances, alternating current (or AC) is what comes out of your wall outlets at home.
Inverter generators mimic the power you typically get from a wall outlet.
These generators produce alternating current but actually convert it to direct current and then back to AC before supplying it to your recreational vehicle or your RV's appliances and other electronics.
By doing this, the inverter generator eliminates the risk of electrical surges. This is why most inverter generators you'll come across will have a label that states they provide "clean power".
The advanced technology controlling an inverter generator saves fuel by running at a lower engine RPM and reduces the operating noise compared to a traditional generator. This feature will let you run your generator all day with less wear and tear to the internal parts.
Using an Inverter Generator With Your RV
If you don't have access to shore power – such as an electrical pedestal at the RV park – then inverter generators can be a great alternative. To plug your RV power cord into an inverter generator it may require a 30A to 20A plug adaptor.
Be sure to select a generator that runs on the type of fuel that you plan to carry onboard your RV or trailer. That can be gasoline, diesel or propane gas.
While these generators are more energy efficient than conventional models, if you want an eco-friendly source of power you might want to consider installing solar panels on your RV roof.
How Do Inverter Generators Work?
Inverter generators work by changing the speed of the generator motor depending on the amount of current being used by the devices plugged into it. Running at a lower speed saves fuel and makes for a more quiet operation.
In this way the inverter generator is only generating the amount of power your RV needs at the moment it needs it.
If you have less appliances running you don't need as much power. Inverter technology makes it possible to save that extra power for when you do need it.
They are good for the environment and your bank account because they save energy and cut down on fuel usage! A good quality inverter generator will be more reliable and reduce an future issues with starting and running your generator.
Here are 4 of my favorite inverter generators.
Best Inverter Generators You Can Buy For Your RV
Before I jump into this list, it's important to understand every one of these inverter generators are best suited to a specific use.
With that said, I think you'll be able to get a better idea of what type of generator you'll need for your needs, RV type and size, and your budget.
The LCD display on the Briggs & Stratton P2400 PowerSmart makes it easy to monitor.
It has a hefty fuel tank for its size and provides smooth and clean power for sensitive electronic devices.
It's better suited for smaller RV appliances as it may not provide enough power for an air conditioner in a larger RV.
The smaller size and Quiet Power Technology reduce the sound to 58 decibels. It does have parallel capability and a connector kit that will hook up two generators. One generator will create 2400 starting watts and 1800 running watts.
What makes this generator one of the best is the fact that it uses either gas or propane, so you can purchase whichever fuel type is cheaper and use whatever is available.
The front panel mounted 30A RV outlet makes connecting your trailer or motorhome to the unit really easy. There is also a 12VDC connection similar to what you find in your car or truck and a standard double 120Vac wall outlet.
The Champion 4250 has parallel capability through the front panel connections where you'll also find the circuit breaker, mode indicators and digital hour meter and display.
The fuel tank holds 4 gallons. With gasoline the generator can create 3500 watts of power and will last 22 hours on a quarter load. With propane it creates up to 3200 watts and up to 21 hours at a quarter load.
It may be pretty costly, but it has an economy mode that will reduce the amount of fuel you use, helping it pay for itself.
The little Westinghouse inverter emits only 53 decibels and can run up to 10 hours. If peace and quiet is top on your needs list, this could be the model for you.
The controls are all in one spot which makes it easy to run. It provides 2200 starting watts, and up to 1800 running watts.
If that's not enough it has parallel capability so you can run two of them. There is an "efficiency mode" similar to the eco modes of the other models that minimize fuel consumption.
It also will shut off if it's low on oil so you can be sure you won't burn out the engine.
Double generators means double noise. That is, unless they're the WEN 56226i Super Quiet 2250-Watt.
These quiet generators are built like they're meant to run together. They can generate up to 6 hours at a half load, and each one holds one-gallon of gasoline.
Their engines will last longer with the built-in fuel shutoff capability that removes the fuel from the carburetor before shutoff.
There's an eco-mode which keeps fuel use at a minimum. One generator provides 2250 starting watts and 1800 running watts.
What size inverter generator should I buy for my RV?
The size inverter generator you buy for your RV will vary depending on your power needs. Most of these generators produce between 2,000-4,000 watts of electricity.
If you have a small trailer and minimal power needs, then a 2,000 watt model should be more than enough for you.
On the other hand, if you have a bigger RV, and you're looking to power a variety of bigger appliances and devices, you will likely need a 4,000 watt unit.
Will a 2,000 watt generator power my RV's air conditioning?
The standard air conditioner units used in RV's require at least a 2,000-4,000 watt inverter generator.
The size that works best for you will vary, though, and depend on a wide range of factors.
Generally, a 3,000 watt unit can power your air conditioning and even some smaller appliances. 
The trick is not to try and power everything at once because it's a smaller generator.
Are inverter generators more energy-efficient than traditional portable generators?
Yes, inverter generators provide more energy-efficiency than conventional portable generators due to how the final alternating current (AC) is produced.
Unlike conventional generators, these types of generators have engines that will adjust to the power load automatically.
This allows you to only receive the power you need when you need it. Inverter generators also have smaller fuel tanks, and better fuel efficiency.
Final Thoughts
So…do you need an inverter generator for your RV? The answer depends on your power needs and how long (and how frequently) you'll be going without a shore power source.
Many RV owners, like myself, consider these types of generators a necessity.
While I can go several hours without using it on every trip, I'm always happy I have one in situations where other power sources aren't available.
Portable generators (of any variety) are especially important if your RV refrigerator is packed with food and cold drinks, as food can become spoiled if the fridge is without power for too long.
All in all, you should consider your needs and whether or not the convenience of being able to power your RV wherever you are is important to you.