Welcome and thank you so much for following our Life on Route. We are Diane and Beau, a small but growing family obsessed with getting the most out of life.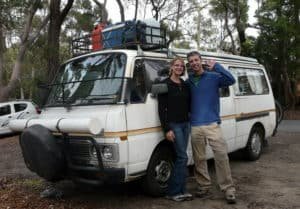 Our journey started in 2009 when our adventurous hearts came together and made the decision to dream big at life.  In 2011 we packed our lives up into two small backpacks and flew to the other side of the world. We spent the next year exploring China, South East Asia, Australia and New Zealand. During this time we became scuba enthusiasts, explored some of the worlds oldest historical sites, traveled by boat, motorbike, plane, car, bus, tuk-tuk, and lived in a 1981 pop-top camper van, a Nissan Urvan we named "Dotti" to be exact.
Our appetite for travel was only strengthened by our experiences however the money ran out and we spent the next several years back in the rat race. Our hearts longed for adventure while our bodies were stuck in traffic. We decided to find a way to fund our passion for exploring and turn our lives into a full time adventure. We purchased, and renovated several rental properties, we flipped our home and worked tirelessly at saving and investing for our future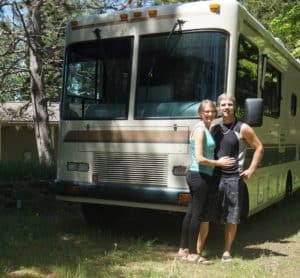 At the beginning of 2017 we purchased a 1994 Safari Trek, a 25' Class A motorhome, and named her "Izzy" for her Isuzu Diesel engine and chassis. We spent the next year and a half of our spare time gutting the inside and bringing it up to modern standards with the aim of making her our full time home. In May 2018, we set sail, leaving our engineering jobs, selling most of our worldly possessions (for the second time) and loading the rest (mostly tools) into a 6'x10' trailer to be stored at a family property.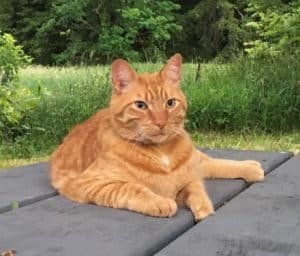 Since then we have traveled east to west across North America exploring all the nature and character along route. Adding a chaotic twist to the excitement, we are expecting our first child in the fall of 2018, a little girl to be exact! Since we are obviously not ones to shy away from a challenge we have also brought our indoor/outdoor cat along for the adventure. Monty is a 10 year old, marmalade, male DSH who obviously calls the shots around here, or at least he thinks he does.
Our intentions are to travel and explore our home continent while meeting like minded individuals to share laughs and stories with along the way. We look forward to sharing with you our adventures, learning experiences and whatever else comes along as we take our Life on Route.