This post contains affiliate links.
Sleeping bag liners are a popular piece of camping gear for many seasoned campers but are often overlooked by novice and weekend campers. These lightweight bags don't take up much space in your backpack but will help protect and extend the life of the investment you've made in your sleeping bag.
Sleeping bag liners help keep the inside of your sleeping bag clean, provide a layer of protection from bugs and insects, add an extra layer of warmth and so much more. 
In this article we'll cover the many advantages of using a sleeping bag liner, the common materials used to make them, and how to choose the best one for your camping needs.
Advantages of Using A Sleeping Bag Liner
Sleeping bag liners are a removable piece of fabric that goes between you and your actual sleeping bag. They come in different shapes and materials that are each tailored for a different purpose (insulation, lightweight, etc.), and there are many advantages to using them.
First, they're more hygienic because you keep your sleeping bag cleaner. This is especially helpful for backpackers who go several days without a decent shower, but you don't have to spend very long in the great outdoors before you're likely to get at least a little dirty.
Your liner will keep your sleeping bag free of dirt, sweat and oils, and body odor, which will ultimately extend the life of your bag.
Easy Cleaning
Getting a regular sleeping bag clean on the inside can be a pain, especially a mummy-style bag that isn't really designed to turn inside-out.
It's much easier to clean a sleeping bag liner, and you would even be able to do it on the go by rinsing it in a stream or creek and then hanging it out to dry. Most are thin enough that they should be able to dry before you would need them to sleep in.
Extra Layer of Protection
Another benefit of sleeping bag liners is that they add another layer between you and whatever insects may be trying to snack on you overnight.
While this is certainly beneficial for camping, many people also bring their sleeping bag liners with them when they stay in hostels and hotels where the cleanliness is questionable. You can even find some liners that have built-in bug protection features.
Adding Warmth For Sleep
One of the main advantages to sleeping bag liners is that they add warmth and insulation to your sleeping bag if you're out camping in the winter.
Sleeping bags are rated for specific temperature ranges, but a sleeping bag liner can give you a little bit of a buffer if the temperature dips lower than expected. They can also help you sleep more comfortably if you tend to get cold easier.
For more great tips on getting the most comfortable sleep on your next camping trip check out our article on Can A Sleeping Bag Be Too Warm
Lightweight for Warm Weather
On the flip side, your sleeping bag liner can be a great alternative to an actual sleeping bag on warm summer nights. You'll have a layer between the elements and the creepy crawlies while not getting as hot as you would with the regular bag.
What Are Sleeping Bag Liners Made Of?
Sleeping bag liners are made from a variety of different materials. Each material or fabric has its own benefits and drawbacks including insulating factor and price.
Cotton Liners
Some sleeping bags liners are made of cotton, which is neither the most insulating nor the most lightweight and compact material. Where cotton gets the win however is in the price – you can find cotton liners for much cheaper than any of the other materials.
Silk Liners
Silk, on the other hand, is one of the most expensive materials. As with many things, however, you get what you pay for. Silk is both lightweight and breathable while still adding a bit of insulation. It won't do much for winter camping warmth, but it does a lot to provide comfort.
PREMIUM SILK TRAVEL LINER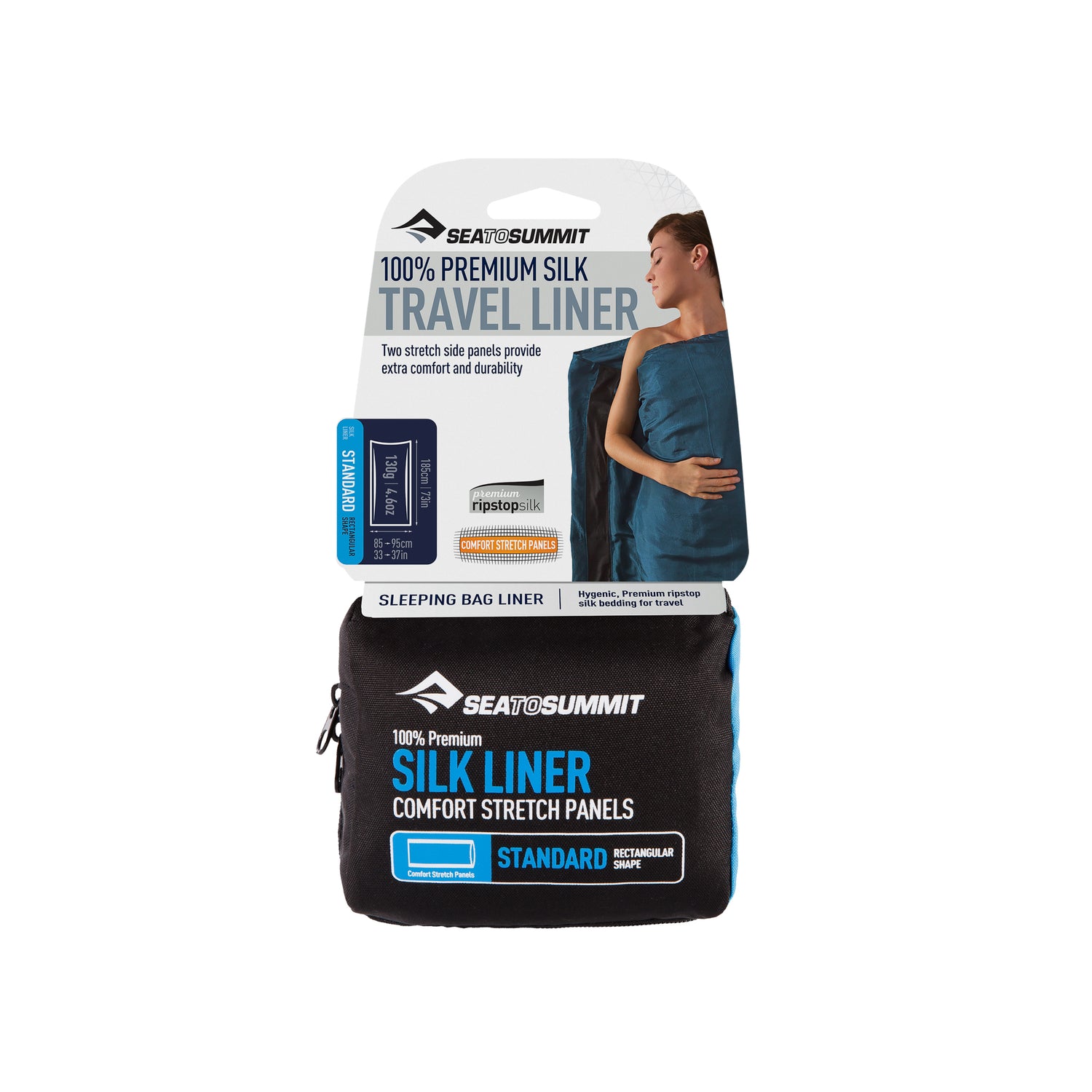 Premium AA grade silk
Stretch panel seams for comfort
Super lightweight
Compact and easy to clean
Machine washable and colorfast
Double folded reinforced seams
Availiable in mummy, rectangle and double sizing
Synthetic Liners
Synthetic sleeping bag liners are slightly more insulating and they're great for humid conditions. Synthetic fiber blends are great at wicking moisture, and most are relatively breathable. They're less expensive than silk, but still come in above cotton.
ADAPTOR COOLMAX LINER
Stretchy, soft and breathable COOLMAX fabric
Improves comfort in humid environments
Use as liner in sleeping bag or on its own in warm weather
Wicks away moisture from skin
Available in Mummy or rectangular
Includes Ultra-Sil stuff sack
available with insect shield for protection from bugs
Fleece Liners
Fleece sleeping bag liners are very insulating, but they're bulky in comparison to the other materials. This makes them attractive for weekend campers in cold conditions but maybe not the best choice for true backpackers.
It's at a middle price point between synthetics and cotton, and fleece is the most economical material that provides a lot of insulation.
THERMOLITE REACTOR FLEECE LINER
Soft and comfy Thermolite fleece
Quarter length zipper for easy access
Ideal for cold weather and winter camping
Use as lightweight sleeping bag in warmer weather
Mummy shape with drawstring hood
Includes Ultra-Sil stuff sack
Machine washable
Hollow Core Fiber
The most insulating material is made of hollow-core fibers, and brands like Thermolite use these fibers in their sleeping bag liners. These add up to 32 degrees Fahrenheit of warmth to your sleeping bag and are a must-have for anyone camping in freezing and subzero temperatures. As you would expect, they're also the most expensive liners.
Do I Need A Liner For My Sleeping Bag?
Sleeping bag liners have many benefits but whether you really need one is going to depend on your camping style. Only the most casual of campers won't have to worry as much about getting their sleeping bags dirty, and if you only do summer camping then you won't need the extra insulation.
For anyone that camps in cooler weather or with any regularity, however, I would recommend getting a liner. It's a worthy investment for all of the advantages you get, and your sleeping bag will thank you for the decreased wear and tear it'll take.
How Much Warmer Is A Sleeping Bag Liner?
The warmth added, like everything else, depends on the material. Silk and cotton fabric will add an average of five degrees of warmth. The main difference between the two otherwise, as mentioned, is their overall comfort.
Microfiber and fleece/wool liners will add about ten degrees of warmth, with some variation depending on the thickness of the fabric. The heavier fabrics will be more insulating, but the tradeoff is their weight and compatibility.
Synthetic liners can add anywhere from 5-25 degrees of warmth depending on the blend and how the material is crafted. Some synthetic liners are thin and lightweight while others are built for insulation.
The hollow-core fiber bags, like I said above, can add up to 32 degrees of extra warmth to your sleeping bag. There are very few instances that I can think of when you would need that much insulation while camping, but if you enjoy winter camping you'll want to be prepared for it.
For all the best ways to stay warm on your next camping trip check out our article on How To Stay Warm in a Tent
How To Choose A Sleeping Bag Liner
The sleeping bag liner you want to choose will have a lot to do with your camping style and what sleeping bag you already have. The main factors to consider are the shape, insulation, size, weight, and comfort.
Size and Shape of Bag Liners
Sleeping bags are not one size fits all – they come in several different shapes and sizes that are designed for their purpose. Rectangular sleeping bags for example are roomier and cooler, while mummy bags keep you wrapped up and warm.
You'll generally want to get a sleeping bag liner that matches your bag style. It wouldn't make sense to get a rectangular liner with a mummy bag because you'll have a lot of extra material bunched up inside. Likewise you'll want to make sure your liner is relatively the same length as your actual bag.
Add Warmth or Stay Cool
Chances are you've already picked out your sleeping bag for the purpose of keeping you warm or cool, so now you can play around with your sleeping bag liner a bit.
Are you looking to push the limits of the cold temperatures your sleeping bag can handle? Go with a fleece liner or warmer.
Think your sleeping bag will be warm enough but you want a breathable liner? Silk or synthetic.
Are you planning to do a lot of summer camping, and you may end up using just your liner to sleep in? Cotton, silk, or synthetic.
Or maybe you only have a light sleeping bag, and you're looking to venture into colder temperatures. No matter what sleeping bag you already have, you can use your liner to fine-tune your sleeping conditions.
Size and Weight
If you're able to drive up to your campsite and unload your gear, the size of your sleeping bag and liner is probably not a big concern. If there's a requirement to carry your camping equipment any further distance you may be more interested in its size and packability.
For the backpacker, size and weight are all too important. Every item you bring is painstakingly measured for compatibility and weight, and ounces are shaved everywhere they can be. A heavy, fleece liner might be perfect for the weekend camper, but the backpacker is going to have to balance comfort and insulation against weight and bulkiness.
REACTOR COMPACT PLUS LINER
Combines 2 weights of Thermolite fabric for a lighter and warmer liner
Lightweight, more packable than fleece
Adds 20F/11C of warmth to sleeping bag
Drawcord hood
Includes Ultra-Sil stuff sack
Easy wash and dry to protect sleeping bag
Comfort
At the end of the day (literally), your sleeping bag liner is there to give you some added comfort. Whether that's in the form of more insulation or breathability, you'll want to choose the material that'll give you the best night's sleep and the best overall camping experience.
For example, many people hate the feel of fleece. It can be scratchy and irritating, and even the softest fleece blankets and jackets can feel downright uncomfortable.
When looking at sleeping bag material options, fleece would be the perfect choice on paper for cool weather camping. It's insulating, it's moisture wicking, and very affordable. But if you don't like fleece then pass it up for another option.
Make sure you take your personal preferences into consideration as you're shopping, and don't forget that your choice of liner can have a large impact on your quality of sleep.
To make sure your properly prepared for your next camping adventure have a look at our latest article on What to Bring Camping in a Tent.
Closing Thoughts
Sleeping bag liners provide many benefits from protecting your sleeping bag and increasing its lifespan to adding insulation and comfort. There are several different factors you should consider from shape to material when you're choosing one for yourself, and I would recommend getting one to just about anyone who does any kind of regular camping.