This post contains affiliate links.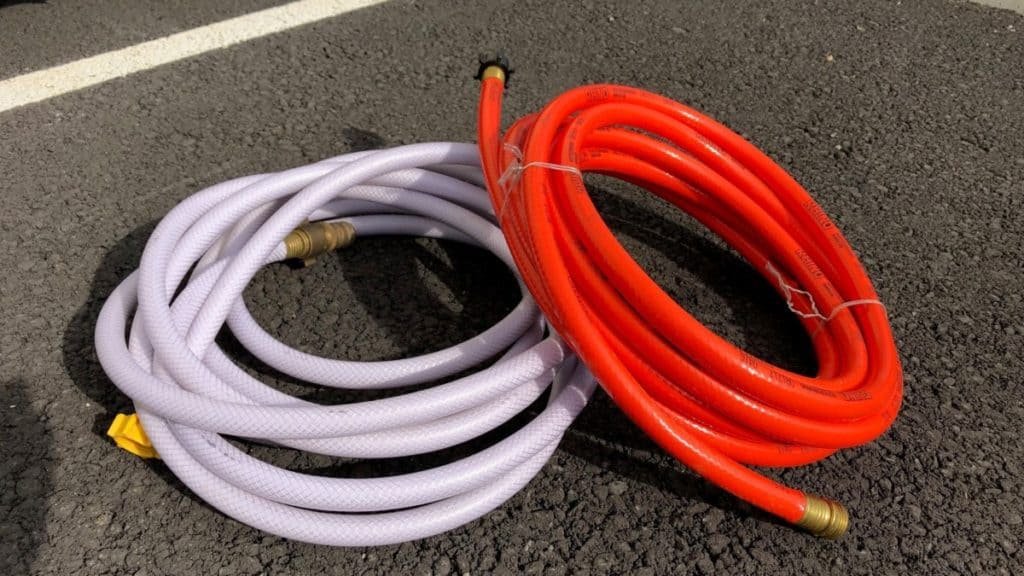 Deciding on the right size water hose for your RV seems like it should be simple. But you can easily get stuck with your campsite's hose bib just out of reach or be tripping over your massive water hose if you don't pick the right size.
The length of water hose you need for your RV will vary depending on where you're camping. Most RVers use a 50′ or two 25′ drinking water hoses with a 5/8″ inner diameter. There are different types of hoses and accessories including non-kink hoses and quick disconnects that will help match up with your setup.
Does the size of your RV drinking hose really matter that much? You don't want to be stuck with a too short hose and have to adjust your camper so you can have running water. You'll soon see why both the length and the diameter are things you want to take into account when you're shopping for your next RV freshwater hose.
How to Pick Right Length of RV Drinking Water Hose
You can go without sewer hookups and you can even go without electricity if you have a generator, but it's really hard to go without water for any length of time. Sure, you can get by for a bit on your fresh water tank but if you can avoid having to break camp just to get to nearest fill station life will be a lot easier.
That's where your water hose comes in. The answer to what size water hose for RV camping to get is deceptively simple: it depends. Many private campgrounds will try to position the spigot somewhat close to the site, usually within 25 feet if not 10. In these instances you can get away with primarily using a 25 foot hose, but that won't be the case at every campground.
State and National Parks, for example, are notorious for only placing spigots intermittently through the campgrounds, and you're often forced to fill up your freshwater tank and run off of that. In those cases, a 50 foot water hose would be ideal, and it may even help to have a 10 or 25 foot extension just in case.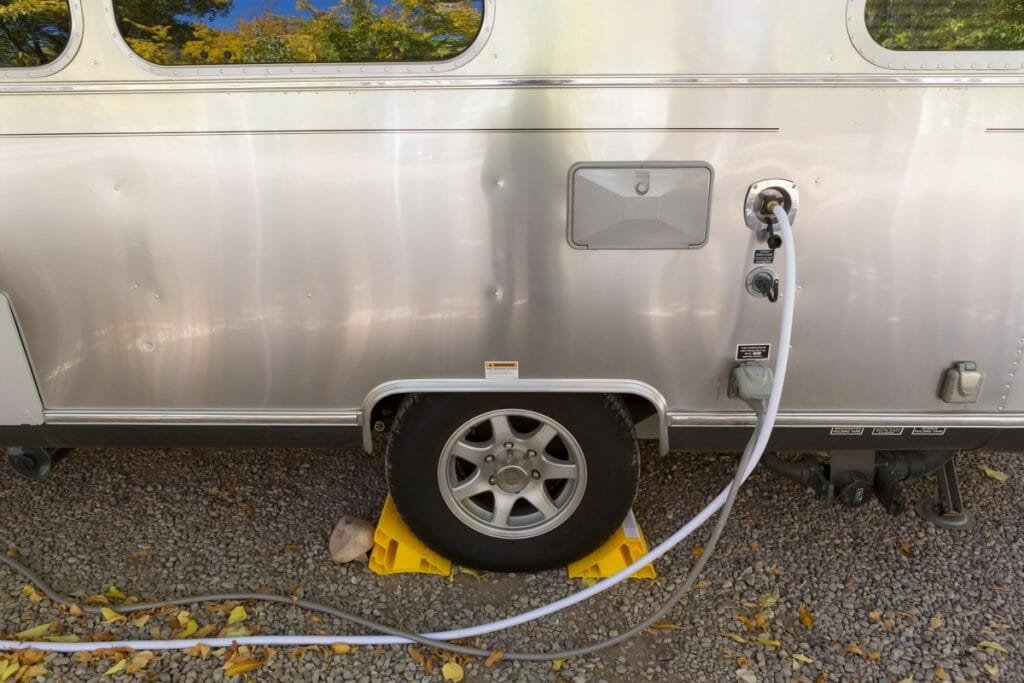 I use a 50 foot hose with my camper, and on the sites that the spigot is nice and close I just uncoil the ends, hook them up, and leave the excess coiled under the camper. If you would rather not have to deal with the excess hose, you can always carry a 50 footer and a 25 footer and then use whichever one you need.
Another thing to think about is whether you want one long hose, or multiple smaller ones with the ability to form a long one. Take my setup for example: instead of using a 50 foot hose for everything, I could trade it out for two 25 foot hoses. On the sites with a close spigot I would only use one hose, and when the spigot is farther away I would just connect the two together.
One advantage of having a single long hose is leak potential: the fewer connections you have to make, the less likely you are to spring a leak. Another advantage is sanitation: the fewer exposed ends you have, the less likely you are to get contaminated drinking water.
Alternatively, sanitation is also a disadvantage of a single hose because long hoses are harder to disinfect and dry out. A wet hose is a perfect breeding ground for mold and mildew, and you'll have an easier time getting water out of a 25 foot hose than a 50 foot hose.
Storage is another thing to consider. While theoretically, multiple shorter hoses take up the same amount of space as a single long hose, you may have an easier time storing hoses that come in smaller segments. See our article How to Care for your RV Water Hose for ways to store it.
The last thing you'll want to look at is the hose diameter. Most water pipes in your RV are going to be 1/2 inch diameter, but hoses come in a variety of sizes including 7/16ths, 1/2 inch, and 5/8ths. The most common hose diameter is 5/8″ and this should be plenty for your RVs.
Types of Water Hoses
A hose is a hose, right? Not so much when you're camping, where mixing up your hoses can even be bad for your health. You'll want to make sure you have a dedicated hose or hoses for your drinking (potable) water, and a separate hose for your non-potable water uses.
You can use non-potable water for tasks like flushing out your sewer line and washing your RV, but non-potable water is not safe to drink by definition and should not be put in the same hose as your fresh water.
Water may be deemed non-potable for many reasons. It may have more trace minerals than are considered healthy, or it may harbor infectious microorganisms like bacteria and parasites. Or it may be simply the filling station is next to the dump station and camper grounds don't want to risk cross-contamination.
Having a designated hose for your drinking water and a separate hose for your non-potable water is a great way to minimize the chance that your drinking water gets contaminated and in order to make sure there is absolutely no confusion I use a white hose for my drinking water and an orange hose for my non-potable water.
Aside from potable vs non-potable, you can also find hoses with special features like non-kink hoses. We got a kink in our water hose early on in our RV journey and while the hose still works fine it occasionally gets all twisted up. If you get a hose non-kink hose, you won't have to worry about fighting your hose every time you go to set up or break camp.
Kinks don't just happen during setup, the ends of your hose are especially vulnerable to crimping because of the often severe angles they are forced to take. Using a spring coil hose protector is a wonderful way to prevent this crimping from happening, which adds to both your water flow and the longevity of your hose.
It's not too often that you have to plug in your water hose, but you'll definitely want to if you're staying in a super cold area. Heated water hoses are great for making sure your water doesn't freeze up during the winter, and if you would rather not use them during the warm months you just have to unplug the power source.
Hose Accessories
Once you've decided on what length of hose will work best for you and your trailer or motorhome setup there are some "extras" that can make life easier and also protect you from possible damage. Below are my must-haves hose accessories that I find make setting up and breaking camp a little easier.
Quick disconnects
Quick disconnects help take the fight out of setting up your hose(s) and make it much easier to connect multiple hoses to each other. Designed not to seize up and easy to use, these are great to have around.
You'll want to look for a set quick disconnects made of high quality materials like brass, can withstand high pressure and easy one handed us. You'll also want to make sure you enough for all your hoses since not all brands will work interchangably.
Water Pressure Regulators
Unfortunately, you cannot depend on a campground to have good or consistent water pressure. Some water sources dribble water out so slowly that you wonder if you'll actually be able to shower this trip, and others force the water through with enough vigor to power a dam.
Excessively low water pressure is no fun to deal with, but excessively high water pressure can actually damage your RV's components. Using a water pressure regulator, you can set your pressure to 40-50psi and prevent the issues that come with too high or too low of water pressure.
Getting a water pressure regulator that is adjustable will let you set your water pressure to the exact right pressure for your rig. Just know these regulators only downgrade the water pressure so if a campground is suffering from lower pressure you may need to use you water pump as well.
Water Filters
Potable water may be drinkable, but that doesn't mean it's the best for you or your RV. Fortunately you can get a water filter to bring you some peace of mind and make sure that you have access to the highest quality of water.
Water filters pick up not only excess minerals and debris but some microbes as well. Changing out your water filter as often as is recommended will go a long way toward maintaining the safety of your water.
Using a water filter when you fill your fresh water tank can also extend the life of you water pump since excess debris will be filtered out. Learn more about How to Care for you RV Water Pump in our article.
Hose Storage Solutions
There are many different ways to store RV water hoses, but the ultimate goal is to keep your drinking water hose clean and minimize headaches with your setup.
Storing your hose on a reel in the compartment or storing it in a clear plastic bin are two of the most popular solutions, as both allow for relatively easy setup while maintaining as much cleanliness as possible. You can also use hose bags that are made just for this purpose, or you can try to build shelving or something to hang the hose on in the compartment.
But there are many different options and ideas for the best and safest way to store you water hose, learn more in our article How to Store Your RV Water Hose.
Closing Thoughts
If you do a lot of camping in remote campgrounds, you'll probably find yourself using the 50 foot hose more than someone who sticks to large, luxurious parks. All in all, choosing the right RV water hose size largely comes down to personal preference and what is going to work best with your setup.
Recommend Products for RV Water Hoses