This post contains affiliate links.
Storing and taking care of your freshwater hose properly may seem trivial compared to other things involved with setting up and maintaining your RV, but it could be the difference between clean and contaminated drinking water. With these maintenance tips and storage hacks, you can rest easy knowing your water supply is safe.
There are many different ways to store your freshwater hose from putting it in a bin to coiling it on a reel. No matter your preference, as long as you store it away from your other hoses and keep it clean you'll be good to go.
Everyone wants to maximize space in their RV, but when it comes to your drinking water hose you want to do it right. With the maintenance tips and storage hacks below, you'll be able to keep your water supply safe while getting the most out of your storage space.
Caring for Your Water Hose
It's a small part of your setup and breakdown, but your freshwater hose can play a large part in your RV experience. Dirty water poses a significant health hazard as there are so many things that can get in your water and make you sick, and that's the last thing you want to deal with on the road.
Every time you connect your drinking water hose you should inspect the ends for structural damage and debris. You have the potential to drink anything that gets in the hose, so keep that in mind when you look for dust, dirt, and other contaminants.
It's also good to remember whatever is in your hose can potentially end up in your freshwater tank. If there is dirt or contaminants in your hose while filling your tank they will likely end up in your freshwater pump too. Debris is deadly to a water pump, learn how to properly care for you RV water pump in our article.
You'll also want to sanitize your drinking hose about twice a year, and you can do this easily by filling a tub or bin with a diluted bleach solution (about 1 cup of bleach to 5 gallons of water) and letting the hose soak in it for about 10 minutes. Rinse the hose out right after, and you should be good to go.
When you're breaking down camp, make sure that you get as much of the water out of the hose as you can. This will keep algae, mold, and mildew from building up, and will give potential contaminants less liquid to spread around in. You can also take steps to protect the ends of your hose like screwing the ends together, putting hose caps (Amazon Link) over the ends, or covering the ends with plastic.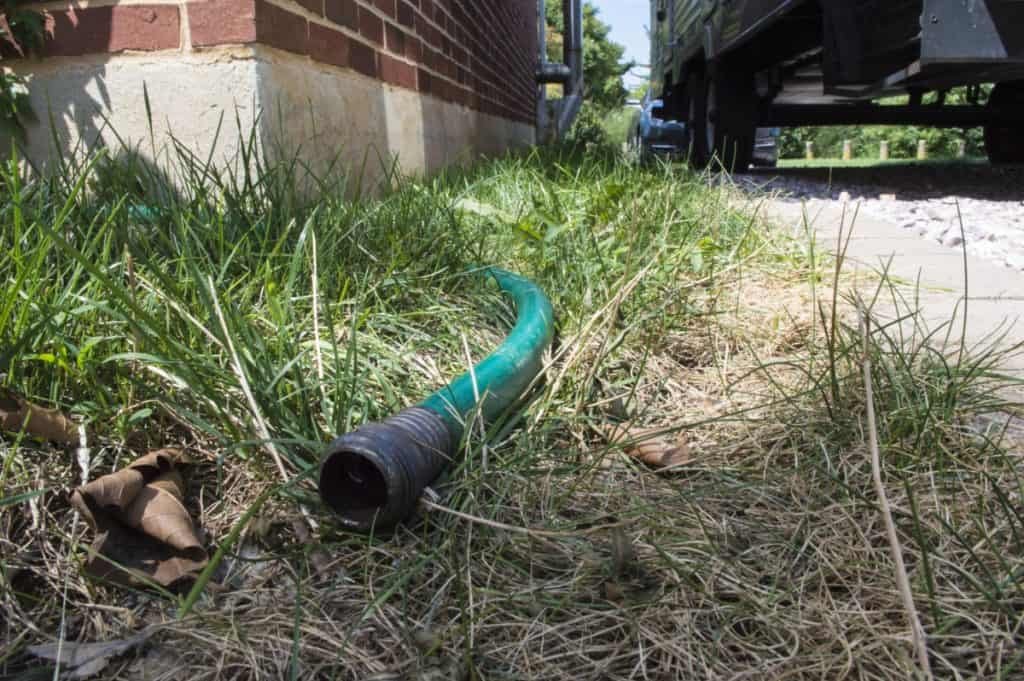 Proper Drinking Water Hose Storage
Choosing the right RV hose storage option will go a long way toward keeping contaminants and debris out, and there are several things you can do storage-wise to keep it as clean as possible.
The first thing you'll want to do is get a dedicated bin for that hose. You may be tempted to just store it with your other ones, but that's just asking for trouble. You already know what goes in your black water hose (and if you have the clear plastic connections you've seen it too).
No matter how many times you flush your black water hose out, you're not likely to get all of the fecal bacteria out that can cause you issues. This is because many bacteria form structures called biofilms, which are little collections of microbes that stick to each other and the surface they form on.
These biofilms can contain harmful bacteria like salmonella and E. Coli, and you'll want to keep those little beasties as far away from your fresh water supply as possible. The biofilms can release bacteria into the environment anytime, so mix that with a little residual water in the hose, shake it all around the bin as you travel, and your fresh water hose is now contaminated.
So what about the flushing hose? The one that uses non-potable water but nothing nearly as unsavory as your black water hose? You're still better off keeping it separate from your drinking hose. Odds are you're not nearly as careful with how you handle that hose because you don't have to be, and cross-contamination can happen too easily.
Water Hose Storage Solutions
So now you're probably wondering how to store your RV fresh water hose most efficiently. Since every RV is going to have a different compartment layout for your water inlet and different storage space I can't tell you what will work best for your exact setup, but I can give you many different options to try out so you can find the best solution.
Also, the size of your RV's water hose will impact the types of storage solutions you can use. Learn more about How to Pick the Right Size of Water Hose for your RV in our article.
Hose Reels
If you have a place for an RV water hose reel (link to Amazon) in the same compartment as your water inlet, then set up just got a whole lot easier. You can run your inlet down to the reel with a couple of fittings and some pipe, and then all you have to do is crank. You would have to take the hose out to sanitize it but it would still be one of the most overall convenient ways to store your freshwater hose.
Even if you can't store the reel in the compartment with your inlet, they can still be quite useful. Unfortunately, they can also be quite expensive, especially if you opt for one with automatic retraction (Amazon link), but you can get around this by making your own reel out of a wire spool. The only downside to using a reel is that any water left in the hose may leak out if you don't cap it.
Hose Caddy
If you want to know how to store your RV water hose the easiest, it doesn't get any more simple than throwing it in a bucket. Grab a five-gallon bucket from your local orange home improvement store and just coil your water hose into it whenever you're traveling. The best part – you can even sanitize it right in the bucket.
If you want something a little fancier you can pick up a handy hose caddy like the one pictured below. You can keep all your freshwater hose related items, like your filter and pressure regulator in it, and it'll keep your hose tidy at the campsite. See our must-have RV Essential Guide for more info.
Sale
Hose Storage Bags
Another option to consider is a hose bag, which generally comes as either a mesh or duffel-like bag. It holds the coiled hose together without taking up any additional space, and that's always a big plus on the road.fafg
One downside to a hose bag like the reel is that it may get a little messy if you don't get all of the water out, but as far as space conservation goes you can't beat this hack.
Sale
Use Hooks and Hang Your Hose
I definitely have a tendency of overthinking things, but sometimes the best solution is the one that requires the least brain power. You can mount a large hose hook to the inside of your compartment and just hang the hose once it's coiled. You will want to make sure the ends are protected, but this is a quick and easy hack to keep your hose up and out of the way.
Screwing the ends together will keep water from leaking out in transit, but make sure that you sanitize it regularly to keep mildew from building up inside from any residual water.
Hose Box
You can use wreath boxes, which are slim, plastic cases normally used to store wreaths, and they're like the hose bags but entirely enclosed. It may not work for larger hoses, but a wreath box is easy to store and will keep any leaks from spreading in your compartment. You can find them at Michaels, Target, and online as well in a variety of sizes.
Similar to a wreath box is a cable organizer box. You'll want to find one that is built for larger cables and hoses so it will actually close around your freshwater hose. It's also recommended to coil each half in opposite directions to prevent tangling and allow the hose to unwind from only one side at a time.
Cordpro CP-XL, Heavy Duty Cord and Large Hose Organizer,Yellow,X-Large
Holds up to 150 ft. of 12/3 electric cord, 100 ft. 10/3 electric cord, 60 ft. of 3/8" air hose, 50 ft. 1/2" air hose, 50 ft. ½"...
For use with cords, pull cord halfway through the unit, then wind each half in the SAME direction. Both halves will unwind at the same time.
For use with hoses, wind each half in OPPOSITE directions. Both halves will then only unreel from one side at a time. This prevents kinking...
The DIY Option
If you see the opportunity to build your own storage solution, go for it! You can find videos of people who have constructed drawers under their RV for their hoses, specialized shelves in their storage compartments, and a wide variety of other DIY hacks to make their water setup easy.
You can use almost anything to make a holder sleeve for your hose, from building one out of wood or plastic to using cargo mesh to hold it in. The goal is to get the hose as flush to the wall, floor, or even ceiling of your compartment as possible so feel free to experiment and find what material will work best for your hose.
Closing Thoughts
Your freshwater hose is an important piece of your RV functionality. Keeping it clean and maintained will keep your water supply safe, and so will storing it properly. While storage solutions can be as simple or involved as you want them to be ultimately the best one will be the one that works best for your setup.